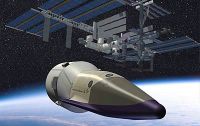 Space shuttles
have been in service since the late 70ies. Now,
Lockheed Martin
presented a the successor, the
Crew Exploration Vehicle
. The bad news is, the plans are get it in the air around 2014, which is much longer than the Apollo program i.e. needed. Certainly, after the tragic loss
Challenger
and
Columbia
safety is written with a capital S, but the space shuttle won't presumably be in the air after 2010, so there's four years without an adequate transport vehicle. The
CEV
is supposed to offer flexibilty, safety, (partial) reusabilty and affordability - the two latter were already aims set forth in the space shuttle program, but the space shuttle fleets maintenance and individual flights alone were up to 50 times more expensive than intially planned, furthermore the reusabilty aspect was never properly met, too many parts had to be repaired after each flight.
The Crew Exploration Vehicle is supposed to counter the problems that handicapped the space shuttle program. There won't be a reusable spaceplane, but rather a capsule similar to the one used in the Apollo program. The launch system will be expendable, but I doubt the costs can be reduced in comparison to other programs. Also, I read that the
CEV
is supposed to